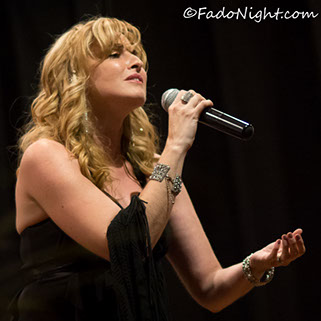 Sonia Bettencourt is a singer. She sings in English, French, Portuguese, Italian and Spanish, and is fluent in the 3 first languages mentioned. She has also sung in German and Latin in the several choirs she belonged to as a child and teenager. Including "Coro de Santo Amáro de Oeiras" known as one of the best choirs in Portugal.
Born to a musically oriented family, she began singing and dancing at a very young age, having family and friends as her audience. All through her teenage years, she participated in Song Festivals, winning first prizes due to her solid interpretation. She had singing (vocal technique) lessons for a brief period when she thought about being a Lyrical singer but she decided it wasn't the type of music she wanted to do in her life, even though, she was very praised as a Soprano.
Even though she thinks she has her own style, when singing, she acknowledges the influences of her Bettencourt family (her uncle is Nuno Bettencourt from the band Extreme) as well as classical and sacred music and singers Amália Rodrigues, Lara Fabian, Celine Dion, Christina Aguilera, Shania Twain, and others in that line of music.
Through Myspace in 2009 she was given the chance to prove herself in the line of country music, when Ron Dennis Wheeler and Jeff Ridler from "The Ridler Brothers" invited her to sing "John Doe", a song that was released in the CD"R&R MUSIC RADIO HIT SINGLES COMPILATION". She found the song so appealing and was touched by the message in love in it and decided to give it her best shot in this new area. Sonia also starts her relation with the media giving interviews for radio stations in USA, Canada, Australia and Germany.
While working with the Scottish producer Scott MacAlister on 2010, Sonia released three original songs on sale at Amazon and i-Tunes ("Angel,"Undeniable" and "Make a Stand"). This last song was part of a CD compilation of various artists called "Haiti we are there for you" with all the profits going to help the children of Haiti. With this project Sonia went to the show "Portugal no coração" on RTP1 to promote this beautiful cause.
On July of 2011, Sonia joined the Band Faith, where she has been singing till present date. They performed all over the northeast and on May of 2013 the band releases their first CD and starts to have great reviews from the Portuguese radios across the USA. The single "Amor Amor" was in first place for more than three months at Lusobeat countdown and in 2014 they received three nominations at IPMA (International Portuguese Music Awards) and eight nominations at AUA (Artistas Unidos da América) were they received two awards.
March 2014 is the start of a surprising and great new project, Sonia always had the dream of sing fado and she was a great fan of Amália Rodrigues. When she was invited by Liliana DeSousa to perform among other fado artists, she was thrilled. Liliana DeSousa is one of the biggest promoters of fado that we have in USA and gave Sonia the chance to do what she loves the most. That night Sonia performed with two great guitar players, Viriato Ferreira and Manuel Leite and the bond with fado have just started. After this first experience, Viriato Ferreira and José Silva (another great guitar player) started this project with Sonia and before June 2014 they will be ready to perform across USA.