Find information about fado singers (fadistas)
performing in the US and Canada
(Massachusetts, Rhode Island, Connecticut, New Jersey, New York, California, Toronto, ... )
Sandy Batista began performing at the tender age of 5.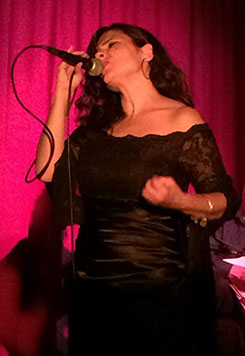 She commenced her career singing with her father a well known local artist Martinho Batista at local events. As a child she knew that performing and singing Portuguese music was going to be a huge part of her life. At 12 years old she had her own general business Portuguese band "Conquistadors". That is when her parents knew it was time for voice lessons. She studied under the great Anna Maria Saritelli Duponte (a founder of the RI Opera), Natalia Deresendez, and Susan Alves (teacher at Cumberland High School that taught her to be a Vocalist and not just a singer). She also studied voice performance at Berklee College of Music in Boston. She has traveled as an artist representing our culture.
Sandy was born and raised in RI, to Portuguese American immigrants, Martinho Batista (from Penalva do Castelo) and Helena Batista (from Viseu). They taught her to speak, read and write Portuguese. She studied Portuguese at Escola Portuguesa do Clube Juventude Lusitana. Sandy sang and danced for the Rancho Folclorico do Clube Lusitana. She was Miss Day of Portugal twice in RI. In 2013 she served on the Day of Portugal committee. As a child her voice could be heard singing "Holy Holy" during mass at Our Lady of Fatima in Cumberland.
"Singing Fado is an honor. When I close my eyes and sing poems that were written about sorrow, history and triumphs, I am humbled. I appreciate every lesson and conversation that I have learned and had with my Portuguese family and fellow Luso Americans. I feel the power of every melody and know the strength of every word that I sing. Motherhood is my greatest influence. It has enhanced my understanding to the sorrow, joy and lessons that can be heard in every lyric that lingers in Fado. They were composed to teach descendants what our ancestors and families endured. I will be forever grateful to my culture, parents and supporters for providing me with the opportunity to showcase our history and strength as a community through the world of Fado."
Contact info: Tel 401-632-2982
Email: mrstugas@gmail.com
Fado Singers - Fadistas
Ana Vinagre, Angela Brito, Carlos Furtado, Catarina Avelar, Cathy Pimentel, Celia Maria, Dinis Paiva, David Silveira Garcia, Elizabeth Maria, Fátima Santos, Jorge Ramos, Jose Carlos, Jennifer Bettencourt, Jeremias Macedo, Josefina Couto, Jose Ribeiro, Kimberly Gomes, Luis Ferraz, Manuel Brandão, Manuel Hilario, Maria Teresa Santos, Marylou Lawrence, Nathalie Pires, Pedro Botas, Ramana Vieira, Rodrigo Costa Felix, Rosa Maria, Salome Cardinali, Sandra Pinheiro Pacheco, Sandy Batista, Sara Correia, Sonia Bettencourt. Sonya da Silva, Tania DaSilva, Tony Gouveia, Victor Reveredo, Zélia Freitas
Listen to fado music in Boston area, Cambridge, Fall River, Lowell, New Bedford, Peabody, New Bedford, Newington, Providence ....
​