Find information about fado singers (fadistas)
performing in the US and Canada
(Massachusetts, Rhode Island, Connecticut, New Jersey, New York, California, Toronto, ... )
Rosa Maria, a well known singer in Portuguese communities throughout New England, was born in the Porto Judeu parish on the island of Terceira, Azores, Portugal.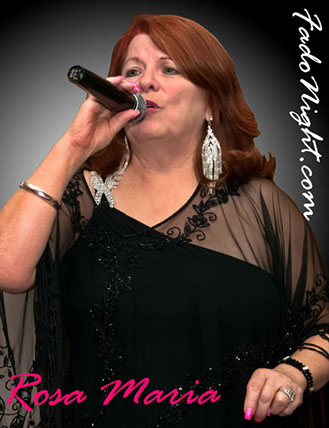 She started her artistic career while still living in the Azores where she performed in dances and carnival bailhinhos as a member of the Brianda Pereira Society of Porto Judeu in Terceira.
Rosa Maria emigrated to the United States and started her US career singing at Lusitano Restaurant in Fall River, MA where she sang for 5 years. She currently lives in Rehobot, Massachusetts.
Rosa Maria sings fado, regional music, popular songs, marches and more.
---------------------------
Rosa Maria, uma fadista bem conhecida nas comunidades Portuguesas de Nova Inglaterra nos EUA, nasceu na freguesia de Porto Judeu na ilha da Terceira, Acores, Portugal.
Comecou a sua carreira artistica nos Acores. Participava em dancas de carnaval e bailhinhos na Sociedade Brianda Pereira do Porto Judeu.
Rosa Maria emigrou para os Estados Unidos da America aonde lancou a sua carreira cantando no restaurante Lusitano em Fall River, MA durante 5 anos.
Hoje a Rosa Maria canta o fado, musica regional, cancoes populares, marchas e mais.
Rosa Maria can be contacted at: 508-336-5256
Fado Singers - Fadistas
Ana Vinagre, Angela Brito, Carlos Furtado, Catarina Avelar, Cathy Pimentel, Celia Maria, Dinis Paiva, David Silveira Garcia, Elizabeth Maria, Fátima Santos, Jorge Ramos, Jose Carlos, Jennifer Bettencourt, Jeremias Macedo, Josefina Couto, Jose Ribeiro, Kimberly Gomes, Luis Ferraz, Manuel Brandão, Manuel Hilario, Maria Teresa Santos, Marylou Lawrence, Nathalie Pires, Pedro Botas, Ramana Vieira, Rodrigo Costa Felix, Rosa Maria, Salome Cardinali, Sandra Pinheiro Pacheco, Sandy Batista, Sara Correia, Sonia Bettencourt. Sonya da Silva, Tania DaSilva, Tony Gouveia, Victor Reveredo, Zélia Freitas
Listen to fado music in Boston area, Cambridge, Fall River, Lowell, New Bedford, Peabody, New Bedford, Newington, Providence ....
​