Find information about fado singers (fadistas)
performing in the US and Canada
(Massachusetts, Rhode Island, Connecticut, New Jersey, New York, California, Toronto, ... )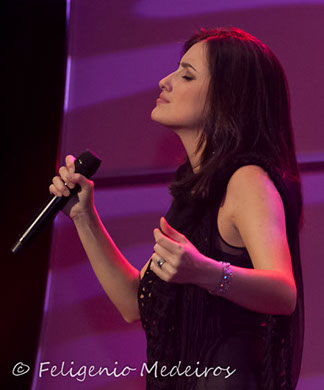 Almost like by the mystery of its origins, fado comes into little Nathalie's life, who still cannot explain if fado elected her, or was that thirteen year old girl who elected fado. What is perfectly clear is that from the time she was accompanied by a Portuguese guitar for the first time, fado took over her voice and her senses, a fado-singer was born, and immediately began to be noticed by the bright tone of her voice, stage presence, and the feelings transmitted every time she sang the beautiful songs of traditional fado, quickly becoming a serious case of popularity among the Portuguese communities in the United States of America.
 Nathalie Pires is proof that fado was already a World Heritage, long before recognized and declared by UNESCO in November 2011.
Born and raised in Perth Amboy New Jersey, in a family of Portuguese emigrants who always supported her in her desire to achieve her objectives.
 A determined fighter, refused to have a serene life, and traveled from city to city, taken the 'Soul Music Of Portugal' to the most diverse communities and ethnic groups scattered throughout the United States, managing her time to comply with her studies, Portuguese, English, singing and piano.
 Nathalie is fluent in English and Portuguese, has dual citizenship, American and Portuguese, has a degree in accounting from Rider University, graduated in May of 2009 and is currently working in the accounting business.
Fado Singers - Fadistas
Ana Vinagre, Angela Brito, Carlos Furtado, Catarina Avelar, Cathy Pimentel, Celia Maria, Dinis Paiva, David Silveira Garcia, Elizabeth Maria, Fátima Santos, Jorge Ramos, Jose Carlos, Jennifer Bettencourt, Jeremias Macedo, Josefina Couto, Jose Ribeiro, Kimberly Gomes, Luis Ferraz, Manuel Brandão, Manuel Hilario, Maria Teresa Santos, Marylou Lawrence, Nathalie Pires, Pedro Botas, Ramana Vieira, Rodrigo Costa Felix, Rosa Maria, Salome Cardinali, Sandra Pinheiro Pacheco, Sandy Batista, Sara Correia, Sonia Bettencourt. Sonya da Silva, Tania DaSilva, Tony Gouveia, Victor Reveredo, Zélia Freitas
Listen to fado music in Boston area, Cambridge, Fall River, Lowell, New Bedford, Peabody, New Bedford, Newington, Providence ....
​