Find information about fado singers (fadistas)
performing in the US and Canada
(Massachusetts, Rhode Island, Connecticut, New Jersey, New York, California, Toronto, ... )
A Tarde de Fados tribute to fadista Manuel Hilario was held by family and friends at Incognito in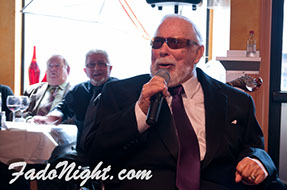 New Bedford, MA. on Sunday, April 14, 2013.
Manuel Hilario was born in Algarve, Portugal. He was a sailor in the Portuguese Navy where his talent for singing fado began to be noticed. After leaving the Navy Manuel became a professional singer and traveled throughout Portugal and sang at numerous fado houses.
In the 1970's Manuel Hilario came to the United States and settled in the New Bedford area where he started working as a professional fisherman. While in the US he sang at many restaurants and Portuguese clubs in New England and the west coast. He also sang regularly at the Fado Restaurant in Acushnet, MA and at Estrela do Mar Restaurant, a restaurant then owned by fadista Dinis Paiva.
Manuel Hilario sang several fados to the delight of those who came to pay tribute to him.
Below are some photos of the Tarde de Fados tribute to Manuel Hilario:
Fado Singers - Fadistas
Ana Vinagre, Angela Brito, Carlos Furtado, Catarina Avelar, Cathy Pimentel, Celia Maria, Dinis Paiva, David Silveira Garcia, Elizabeth Maria, Fátima Santos, Jorge Ramos, Jose Carlos, Jennifer Bettencourt, Jeremias Macedo, Josefina Couto, Jose Ribeiro, Kimberly Gomes, Luis Ferraz, Manuel Brandão, Manuel Hilario, Maria Teresa Santos, Marylou Lawrence, Nathalie Pires, Pedro Botas, Ramana Vieira, Rodrigo Costa Felix, Rosa Maria, Salome Cardinali, Sandra Pinheiro Pacheco, Sandy Batista, Sara Correia, Sonia Bettencourt. Sonya da Silva, Tania DaSilva, Tony Gouveia, Victor Reveredo, Zélia Freitas
Listen to fado music in Boston area, Cambridge, Fall River, Lowell, New Bedford, Peabody, New Bedford, Newington, Providence ....
​