Find information about fado singers (fadistas)
performing in the US and Canada
(Massachusetts, Rhode Island, Connecticut, New Jersey, New York, California, Toronto, ... )
Jennifer Bettencourt
Fadista
Biography Jennifer Bettencourt is a Luso-Canadian fadista who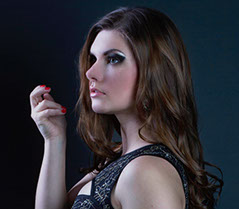 happily tumbled into the world of fado during her teen years, after a lifetime of attempting to ignore the cultural roots that were tugging at her. While childhood dreams revolved around becoming a rock star or a tiny Céline Dion-esque diva, it was fado that ended up bursting forth and becoming her passion. Jennifer has been performing in cultural centres, at events, and special noites de fado over the past few years, and has had the privilege to open for such acclaimed artists such as Rodrigo Costa Félix, Marta Pereira da Costa, and Nathalie Pires. A champion for bringing fado into the modern age, she experienced a surge of recognition when her cover of a Deolinda song ("Passou Por Mim e Sorriu") went viral with over 20, 000 hits. Jennifer has plans to release a self-titled, debut album in the coming year, filled with folk favourites and a few originals.
Jennifer Bettencourt
jjsbettencourt@gmail.com
http://www.facebook.com/JenniferFado
Fado Singers - Fadistas
Ana Vinagre, Angela Brito, Carlos Furtado, Catarina Avelar, Cathy Pimentel, Celia Maria, Dinis Paiva, David Silveira Garcia, Elizabeth Maria, Fátima Santos, Jorge Ramos, Jose Carlos, Jennifer Bettencourt, Jeremias Macedo, Josefina Couto, Jose Ribeiro, Kimberly Gomes, Luis Ferraz, Manuel Brandão, Manuel Hilario, Maria Teresa Santos, Marylou Lawrence, Nathalie Pires, Pedro Botas, Ramana Vieira, Rodrigo Costa Felix, Rosa Maria, Salome Cardinali, Sandra Pinheiro Pacheco, Sandy Batista, Sara Correia, Sonia Bettencourt. Sonya da Silva, Tania DaSilva, Tony Gouveia, Victor Reveredo, Zélia Freitas
Listen to fado music in Boston area, Cambridge, Fall River, Lowell, New Bedford, Peabody, New Bedford, Newington, Providence ....
​