Find fado music venues in US. Restaurants and other venues featuring Portuguese fado music events, fado nights (noite de fado) or concerts in the US and Canada. Massachusetts, Rhode Island, Connecticut, New York, New Jersey, California, Kansas .... Toronto, Ontario, Mississauga and more.
Rodrigo Costa Félix
July 2014 - US Tour
With Marta Pereira da Costa, Pedro Pinhal and local artists and musicians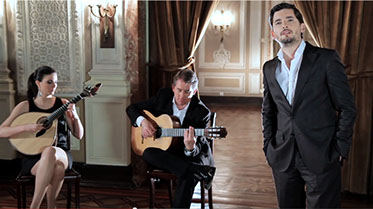 Friday, July 18, 2014
7:00 pm
New Bedford Whaling Museum
18 Johnny Cake Hill
New Bedford, MA 02740
​
Saturday, July 12, 2014 - 8:00 pm
Overland Park, Kansas
Performing Arts Series
Johnson County Community College
Polsky Theatre, Carlsen Center
12345 College Blvd
Overland Park, Kansas
Saturday, July 19, 2014 - 7:00 pm
Elizabeth, New Jersey
Elizabeth Portuguese Club
417 US Highway 1, Elizabeth, NJ
For tickets
Elizabeth Portuguese Club 908-355-1222
Portugal Express 909-352-7818
Valenca Restaurant 908-354-4024
Fado, an old form of urban folk music in Portugal, was born in the streets and back alleys of Lisbon, Portugal in the early 1800's.
Today, fado has gained its position in the World Music circuit. Fado is very much alive not only in Lisbon, Portugal but also in the US and Canada where many fado performances and fado night events take place.
Fado music and lyrics can convey feelings of love, joy, sadness, pain passion and loss. This traditional Portuguese music is enjoying a major resurgence, spurred on by UNESCO's designation of fado as "World Immaterial and Cultural Patrimony"
The word fado comes from Latin "fatum" meaning "fate" or "destiny". A common theme in fado songs is "saudade". The word "saudade" is difficult to translate in any language. It refers to a longing for a happier moment in a person's life and a yearning and hopefulness towards re-living that moment.
Fado is usually associated with the cities of Lisboa and Coimbra in Portugal where it flourished.
Fado music is the national song of Portugal. It is very intertwined with Portuguese culture. To truly understand Portuguese culture one needs to experience a Noite de Fados (Fado Night).
Lisbon bairros (districts) where fado music flourished include: Mouraria, Alfama, Bairro Alto, Madragoa and Alcantara
Fado singers (male or female) are usually accompanied by a portuguese guitar (12 string guitar) and a viola (6 string acoustic guitar)
​

Saturday, March 29, 2014
A fado night in the US with
Camané
Zeiterion Theatre in New Bedford, Massachusetts
Accompanied by: José Manuel Neto on Portuguese guitar, Paulo Paz on contrabaixo and Carlos Manuel Proença on viola do fado
​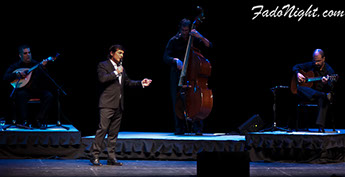 Listen to fado music in Boston area, Cambridge, Fall River, Lowell, New Bedford, Peabody, New Bedford, Newington, Providence ....