February 2019
Noite de Fado - Fado Night



SUNDAY, FEBRUARY 10, 2019 at 3:30 PM
David Silveira Garcia, Lysandra Jorge,
Crystal Mendes, and Sandra Pinheiro Pacheco
@
Five Wounds Portuguese National Church
San Jose, California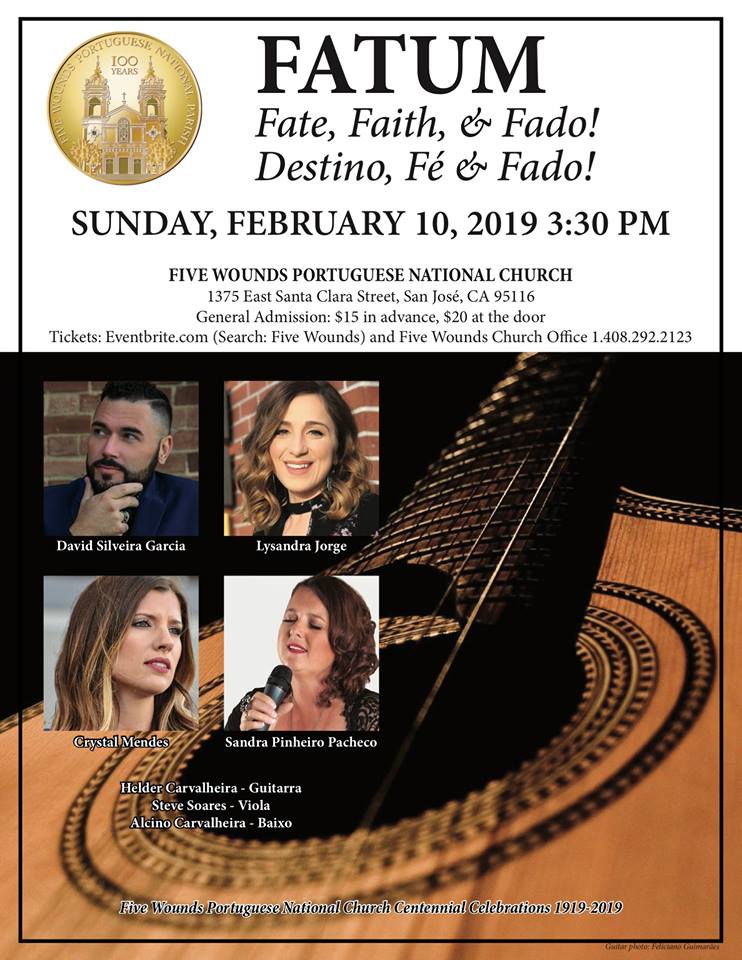 Fado comes from the Latin word - Fatum - for fate or destiny. The Fado genre goes back to the 1820s in Lisbon and is now a part of all Portuguese communities around the world. Many Fado songs are about "saudade" (longing or a feeling of loss), fate, and religious faith. In 2011, Fado was added to the UNESCO Intangible Cultural Heritage List.
Four California Fado singers will perform at San José's most traditional and beautiful Catholic church - Five Wounds Portuguese National Church - as part of the church's centennial celebrations on SUNDAY, FEBRUARY 10, 2019 at 3:30 PM.
David Silveira Garcia, Lysandra Jorge, Crystal Mendes, and Sandra Pinheiro Pacheco will be accompanied by Helder Carvalheira on Guitarra Portuguesa (Portuguese guitar), Steve Soares on Viola (guitar), and Alcino Carvalheira on Baixo (bass) for a memorable afternoon of Portugal's national song par excellence! — with David Silveira Garcia - Fadista, Crystal Mendes, Helder Carvalheira, Sandra Pinheiro Pacheco and Lysandra Maria Jorge.
February 2018
Noite de Fado - Fado Night
​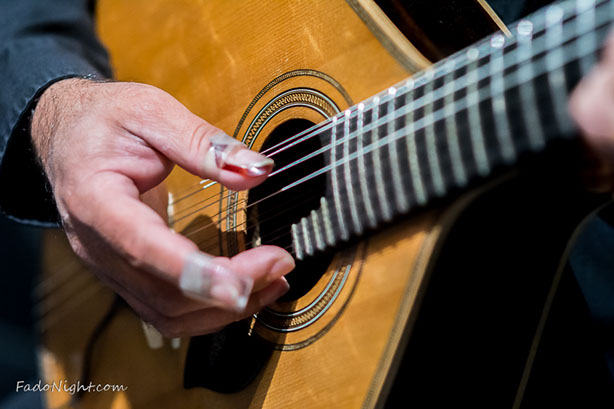 February 2017
Noite de Fado - Fado Night
​ Saturday, Feb 25, 2017 @ 7:30 pmGisela JoaoNY Fado FestivalSchimmel Center3 Spruce St, New York, NY​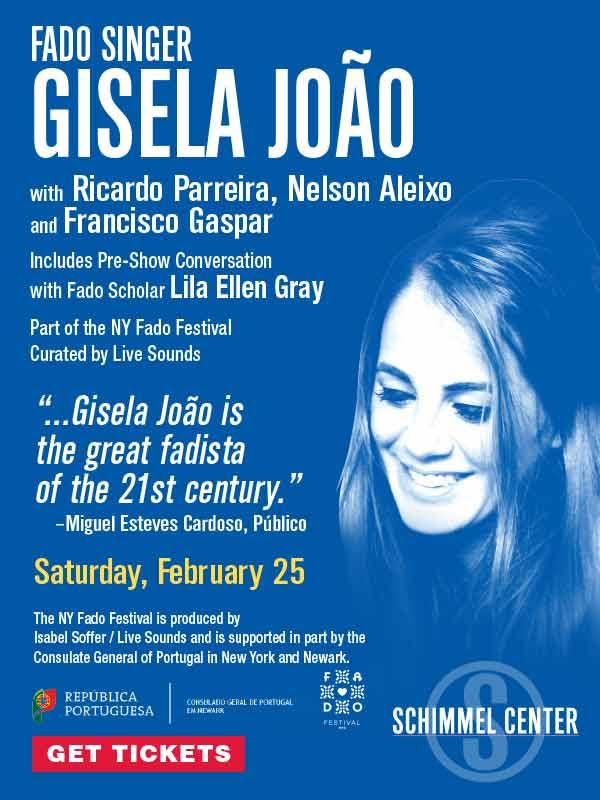 ​Portuguese fado singer Gisela João has been generating white-hot press for her uncompromising approach to this most traditional music. Her voice evokes fado as a music of the streets, where it began, infused with all the ardor, passion and honesty of an artist rewriting tradition in her own name. Gisela João will make her New York City debut at the Schimmel Center at Pace University on Saturday, February 25 at 7:30pm as part of the first NY Fado Festival. Singer Gisela João's second CD, Nua extends her trailblazing approach to fado—Portugal's most emblematic music—with a fresh and spirited rejoinder to knee-jerk traditionalism combined with a bold vision of fado's future. Gisela João's first, self-titled CD (released in 2013), brought rapturous praise from the Portuguese and European press and within two weeks of release went straight to the top of the Portuguese charts. Her subsequent live appearances—one part ingénue, one part rebel—rattled contemporary sensibilities but also firmly established her as a unique and uncompromising voice. Where other singers communicate the fado's strong sentiments solely through their voices, Gisela João's fado is a full-body experience: onstage, she jumps, she gestures, she emotes. Offstage, her interviews are similarly wide-ranging and expansive. She moves swiftly from discussing fado to house music to Nick Cave and Nina Simone, asserting boldly that "all genres of music end up influencing all others because music thrives upon life itself." The arc of her meteoric rise has been anything but conventional. She was born in 1983, in the northern Portuguese city of Barcelos, rather than in Lisbon, the cradle of fado. Her career began when she secured her first contract by sending a portfolio of videos to Portugal's major labels, signing soon after with the Valentim de Carvalho label (the Blue Note Records of fado). Both Gisela João and Nua were recorded not in sterile studios, but in Old World palaces located in and around Lisbon, the equipment trucked in and the interiors left untouched. Her video catalog—its existence a genuine rarity for a fado artist—embraces a bold, even iconoclastic visual style, expressed perhaps most powerfully in the video for "Labirinto ou não foi nada," featuring not Gisela João but a transvestite artist in scenes of backstage and subterranean intrigue. With the release of Nua (Naked) she has plunged deeply into the most sacred territory of the fado canon—the repertory of the late Amália Rodrigues, undoubtedly the music's foremost exponent. In so doing, she stands an excellent chance of helping to redefine contemporary notions of the fado. A fado singer's identity is patent in the lyrics and instrumentation they select and perform. And while Gisela João embraces some of the best-known works in fado's history, including not only those associated with Amália but also with Maria Teresa de Noronha and others, her most potent alchemy is the future. One song on Nua, "Noite de São João" (Night of Saint John), shares its name and music with an old fado, but the lyrics—written for the album by the female rapper Capicua—recount a tale of late-night romance with a very bad boy. João dismisses any criticism that this lyric is somehow beneath the fado. She asserts, quite rightly, that fado was once a music of people living at the margins of society: rogues, ne'er-do-wells, seafarers. As she says, "I like traditional fado, pure and raw." Nua steadfastly refuses to resolve the paradox of tradition and innovation, offering strikingly pure yet emotionally supercharged music. With few exceptions, the selections sit firmly within the fado repertory. Some are refined, even inspired, such as "Um fado para este noite" (A Fado for Tonight) and "Naquela noite em Janeiro" (On That Night in January), associated respectively with the towering figures of Beatriz da Conceição and Argentina Santos. Others, such as the landmark "Labirinto ou não foi nada" (Labyrinth, or It Was Nothing), burst with wild musical invention, tightly controlled and masterfully directed. Perhaps the most controversial tracks are interpretations of two classics by the Brazilian singer Cartola, "O mundo é um moínho" (The World is a Windmill) and "As rosas não falam" (The Roses Don't Speak). Together with her version of the Mexican folk standard "Llorona" (The Wailing Woman), what sets these tracks apart from mere covers is the complete dedication of the singer and her musicians to moving them within the fado's sphere. The result brings Gisela João's music full circle, expanding the scope of our conception of fado, without sacrificing or betraying its more than 200-year tradition. Gisela João will be accompanied by Ricardo Parreira on the 12-string Portuguese guitar, Nelson Aleixo on the classical guitar, and Francisco Gaspar on the acoustic bass guitar. A pre-show talk on fado and a special exhibit from the Museu do Fado in Lisbon are included in the February 25th program.