Find information about fado singers (fadistas)
performing in the US and Canada
(Massachusetts, Rhode Island, Connecticut, New Jersey, New York, California, Toronto, ... )
Fátima Santos
Fadista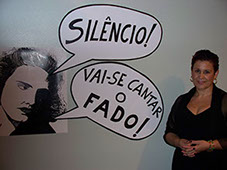 A native of Albergaria-A-Velha in northern Portugal, Fátima Santos began singing in church. Attracted by the operatic vocal technique used by Coimbra Fado singers, and inspired by great composers such as José Afonso, Luiz Goes, and Fernando Rolim, Ms. Santos began performing this type of Fado, as well as other types of Portuguese vocal music. One of the very few female performers of Coimbra Fado, Fátima Santos participates in cultural programs implemented by the Portuguese Arts Organization, and is a member of the New Jersey Association of Verismo Opera.
Discography:
"Nitidez do Comum" - SbFS, SbFS 010451, 2011
"Coimbra" - SbFS, SbFS 052657, 2011
"Nostalgia" – LS Productions, LS 0011, 2003
Participations:
"Coimbra Mal Amada" - ÆMINIUM Records, AE 007, 2004
"Coimbra Fado" - ÆMINIUM Records, AE 006/ LS 002, 2003
Please know more about Fátima Santos at: www.fatimasantos.com
Booking: (908) 403-2609 / musicanocoracao1@hotmail.com
Fado Singers - Fadistas
Ana Vinagre, Angela Brito, Carlos Furtado, Catarina Avelar, Cathy Pimentel, Celia Maria, Dinis Paiva, David Silveira Garcia, Elizabeth Maria, Fátima Santos, Jorge Ramos, Jose Carlos, Jennifer Bettencourt, Jeremias Macedo, Josefina Couto, Jose Ribeiro, Kimberly Gomes, Luis Ferraz, Manuel Brandão, Manuel Hilario, Maria Teresa Santos, Marylou Lawrence, Nathalie Pires, Pedro Botas, Ramana Vieira, Rodrigo Costa Felix, Rosa Maria, Salome Cardinali, Sandra Pinheiro Pacheco, Sandy Batista, Sara Correia, Sonia Bettencourt. Sonya da Silva, Tania DaSilva, Tony Gouveia, Victor Reveredo, Zélia Freitas
Listen to fado music in Boston area, Cambridge, Fall River, Lowell, New Bedford, Peabody, New Bedford, Newington, Providence ....
​