Find information about fado singers (fadistas)
performing in the US and Canada
(Massachusetts, Rhode Island, Connecticut, New Jersey, New York, California, Toronto, ... )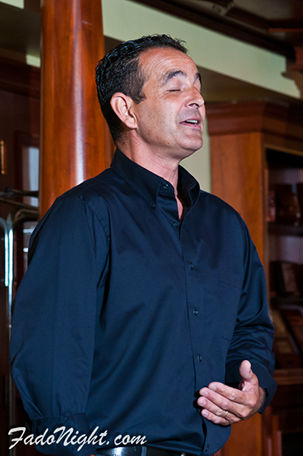 Surrounded by music since childhood, Cathy Pimentel sings Fado, the traditional Portuguese music known for its gentle melancholy. Cathy Pimentel and her unique band FadoMundo are pleased to present their album Horizonte. With a voice filled with emotion, Cathy sings our world?s beauty, as well as its bitterness. Fado is the music of the soul because even if one does not understand the words, the soul feels the emotion. One can feel the music?s emotional vibrations of the music, of its sung melancholy. Fado is the need to tell a story, to feel an emotion that should be kept secret, but a story too strong to stay hidden. The blend of Fado and other world music performed by FadoMundo results in cultural beauty, warmth from Latin countries, those romantic Italian nights, beautiful Portuguese stories, favourites from Paris or simply, music of a foreign country. Cathy Pimentel explains: ?Our goal is to blend styles and languages in order to reach as many people as possible and to introduce them to Fado through these different styles. We not only mix different styles of music, we use instruments such as piano and cello in order to modernise the music and make it easier to listen to.
Twelve songs make up Horizonte; classics as well as original compositions from Cathy, sung in five languages: Portuguese, Spanish, Italian, French and English. Cathy plays piano and sings and Nilton Rebelo (Portuguese guitar), Luis Costa (classical guitar), Samuel Pereira (bass) and Philippe Mius D'Entremont (cello) are FaduMundo.
Cathy Pimentel sings Solo with guitarists or piano.
Cathy Pimentel also sings with her band FadoMundo.
Band is located in Montreal, Qc, Canada.
Horizonte album available on itunes.
Contact info:
Cathy Pimentel
website: www.cathypimentel.com
Facebook page : www.facebook.com/Fadomundo
Fado Singers - Fadistas
Ana Vinagre, Angela Brito, Carlos Furtado, Catarina Avelar, Cathy Pimentel, Celia Maria, Dinis Paiva, David Silveira Garcia, Elizabeth Maria, Fátima Santos, Jorge Ramos, Jose Carlos, Jennifer Bettencourt, Jeremias Macedo, Josefina Couto, Jose Ribeiro, Kimberly Gomes, Luis Ferraz, Manuel Brandão, Manuel Hilario, Maria Teresa Santos, Marylou Lawrence, Nathalie Pires, Pedro Botas, Ramana Vieira, Rodrigo Costa Felix, Rosa Maria, Salome Cardinali, Sandra Pinheiro Pacheco, Sandy Batista, Sara Correia, Sonia Bettencourt. Sonya da Silva, Tania DaSilva, Tony Gouveia, Victor Reveredo, Zélia Freitas
Listen to fado music in Boston area, Cambridge, Fall River, Lowell, New Bedford, Peabody, New Bedford, Newington, Providence ....
​