Listen to fado music in Boston area, Cambridge, Fall River, Lowell, New Bedford, Peabody, New Bedford, Newington, Providence ....
​

April 2019
Noite de Fado - Fado Night
​ MARIZASaturday, April 20, 2019 at 7:30 p.m.
UMass Lowell and Lowell Memorial AuditoriumFifth annual "Sounds of Portugal" concertHosted by:UMass Lowell's Saab Center for Portuguese Studies
TICKET INFORMATIONTickets are $39-$79 and are on sale now at www.lowellauditorium.com or by calling 978-937-8688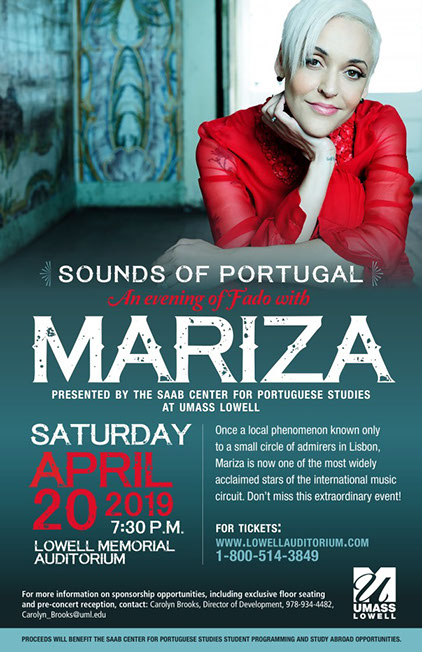 ​The Saab Center for Portuguese Studies Presents ... Sounds of Portugal: An evening of fado with Mariza. In less than 12 years, Mariza has risen from a local phenomenon to one of the most widely acclaimed stars of the International Music circuit, with multi-platinum album releases and appearances on stages all over the world. Mariza's success started with her first CD, "Fado em Mim," released in 2001, which quickly led to a number of notable international performances, including at the Québec Summer Festival, at which she received the event's First Award (Most Outstanding Performance); New York's Central Park; the Hollywood Bowl; the Royal Festival Hall; and the Womad Festival. These helped to earn her BBC Radio 3's award for Best European Artist in the area of World Music. "Fado em Mim" was an exciting first album, showing a young singer with a rich, vibrant voice and a strong artistic personality. She still sang several hits of Amália Rodrigues' repertoire, but her approach to the heritage of the great fado diva was already so personal that she could easily cast away any suggestion of mere imitation. And within her original material, "Ó Gente da Minha Terra" by the young composer Tiago Machado soon became a major hit in its own right. Mariza has gone on to perform at some of the most important venues in the world: the Paris Olympia, the Frankfurt Opera, the London Royal Festival Hall, the Royal Theater Carré Amsterdam, the Palau de la Música in Barcelona, the Sydney Opera House, Carnegie Hall in New York and the Walt Disney Concert Hall in Los Angeles with a stage setting especially designed for her by none other than one of the world's greatest architects, Frank Gehry. No Portuguese artist since Rodrigues has experienced such a triumphant international career. Mariza's musical partners are only the best in international music: Jacques Morelenbaum and John Mauceri, José Merced and Miguel Poveda, Gilberto Gil and Ivan Lins, Cesária Évora and Tito Paris, Carlos do Carmo and Rui Veloso. Her repertoire, while firmly rooted in classical and contemporary fado, has grown to include occasional Cape Verdean mornas, Brazilian and Spanish classics and other themes she holds dear to her heart. Over the past decade, Mariza has long passed the stage of a mere exotic episode in the World Music scene, ready to be replaced by whatever new colorful phenomenon appears in another geographic corner of the recording industry's market. She proved to be a major international artist, strongly original and immensely gifted, from whom much is yet to be expected in the future. The young girl from Mozambique, raised in the popular Lisbon neighborhood of Mouraria, has mastered the roots of her musical culture and developed into a universal artist who is able to open herself to the world without ever losing her Portuguese identity. Portuguese and International audiences are the first to acknowledge this triumph and pay her back with unlimited love and gratitude. Mariza's new album "MARIZA" has just been released in Portugal and across Europe, and it is scheduled to be released stateside in the spring of 2019. SPONSORSHIPSAnyone interested in sponsoring this event should contact Carolyn Rolfe at 978-934-4482 or Carolyn_Rolfe@uml.edu, or visit www.alumni.uml.edu/FadoSponsor. ABOUT UMASS LOWELLUMass Lowell is a national research university located on a high-energy campus in the heart of a global community. The university offers its more than 18,000 students bachelor's, master's and doctoral degrees in business, education, engineering, fine arts, health, humanities, sciences and social sciences. UMass Lowell delivers high-quality educational programs, vigorous hands-on learning and personal attention from leading faculty and staff, all of which prepare graduates to be leaders in their communities and around the globe. www.uml.edu. ABOUT LOWELL MEMORIAL AUDITORIUMThe Lowell Memorial Auditorium was originally constructed in 1922, by the architectural firm Blackall, Clapp & Whittemore. The 2,800 seat-auditorium is an indoor venue located in downtown Lowell, Massachusetts on Merrimack Street. An ideal venue for concerts, family shows, conferences, conventions, trade shows, corporate seminars and much more. Tickets for Lowell Auditorium are available at www.lowellauditorium.com and they are also available through the auditorium box office open Monday-Friday 10:00 AM-5:00 PM.
​April 2017Noite de Fado - Fado Night Saturday, April 22, 2017 @ 7:00 pmLysandra Jorge & David Silveira GarciaBacalhau GrillSan Jose, California ​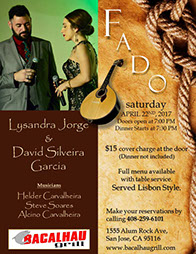 Friday, April 28, 2017
Noite de FadosLuis Ferraz & Teresa SantosCasa da Madeira Community Center in Toronto Canada ​