​ ​CARMINHOFriday, November 8 @ 8PM I $30‒$48 IBERKLEE PERFORMANCE CENTERBoston debut One of the most talented and innovative fado singers of her generation, Carminho sings with an outstanding, heartfelt voice that Songlines magazine describes as "beautifully translucent and stunning in its emotional charge." She draws inspiration from fado legends Lucília do Carmo, Fernando Maurício, and Amália Rodrigues, while performing traditional and contemporary songs as well as jazz, Brazilian pop, and Portuguese folk.

For Tickets: CLICK HERE ​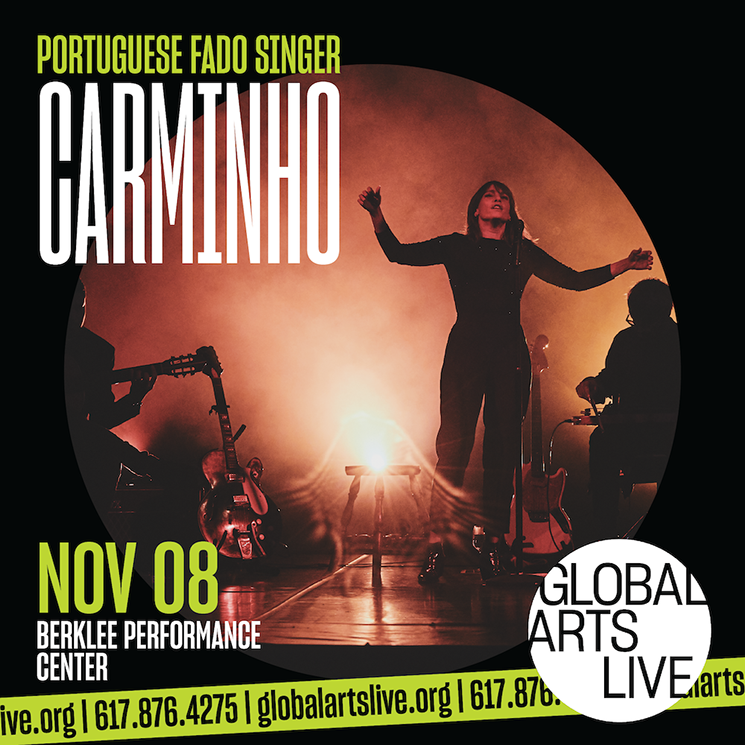 MARIZASaturday, April 20, 2019 at 7:30 p.m.
UMass Lowell and Lowell Memorial AuditoriumFifth annual "Sounds of Portugal" concertHosted by:UMass Lowell's Saab Center for Portuguese Studies
TICKET INFORMATIONTickets are $39-$79 and are on sale now at www.lowellauditorium.com or by calling 978-937-8688.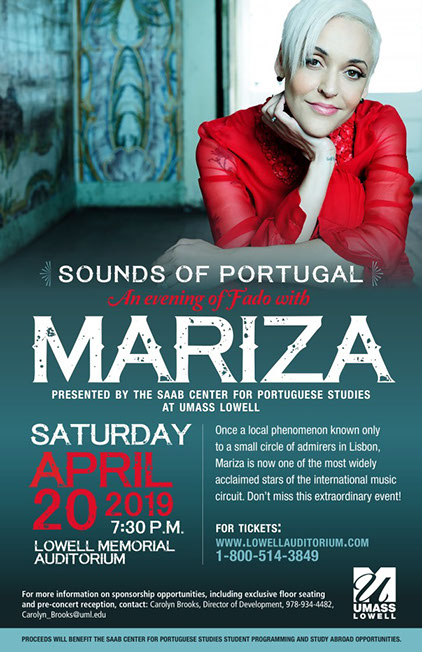 ​The Saab Center for Portuguese Studies Presents ... Sounds of Portugal: An evening of fado with Mariza. In less than 12 years, Mariza has risen from a local phenomenon to one of the most widely acclaimed stars of the International Music circuit, with multi-platinum album releases and appearances on stages all over the world. Mariza's success started with her first CD, "Fado em Mim," released in 2001, which quickly led to a number of notable international performances, including at the Québec Summer Festival, at which she received the event's First Award (Most Outstanding Performance); New York's Central Park; the Hollywood Bowl; the Royal Festival Hall; and the Womad Festival. These helped to earn her BBC Radio 3's award for Best European Artist in the area of World Music. "Fado em Mim" was an exciting first album, showing a young singer with a rich, vibrant voice and a strong artistic personality. She still sang several hits of Amália Rodrigues' repertoire, but her approach to the heritage of the great fado diva was already so personal that she could easily cast away any suggestion of mere imitation. And within her original material, "Ó Gente da Minha Terra" by the young composer Tiago Machado soon became a major hit in its own right. Mariza has gone on to perform at some of the most important venues in the world: the Paris Olympia, the Frankfurt Opera, the London Royal Festival Hall, the Royal Theater Carré Amsterdam, the Palau de la Música in Barcelona, the Sydney Opera House, Carnegie Hall in New York and the Walt Disney Concert Hall in Los Angeles with a stage setting especially designed for her by none other than one of the world's greatest architects, Frank Gehry. No Portuguese artist since Rodrigues has experienced such a triumphant international career. Mariza's musical partners are only the best in international music: Jacques Morelenbaum and John Mauceri, José Merced and Miguel Poveda, Gilberto Gil and Ivan Lins, Cesária Évora and Tito Paris, Carlos do Carmo and Rui Veloso. Her repertoire, while firmly rooted in classical and contemporary fado, has grown to include occasional Cape Verdean mornas, Brazilian and Spanish classics and other themes she holds dear to her heart. ​Over the past decade, Mariza has long passed the stage of a mere exotic episode in the World Music scene, ready to be replaced by whatever new colorful phenomenon appears in another geographic corner of the recording industry's market. She proved to be a major international artist, strongly original and immensely gifted, from whom much is yet to be expected in the future. The young girl from Mozambique, raised in the popular Lisbon neighborhood of Mouraria, has mastered the roots of her musical culture and developed into a universal artist who is able to open herself to the world without ever losing her Portuguese identity. Portuguese and International audiences are the first to acknowledge this triumph and pay her back with unlimited love and gratitude. Mariza's new album "MARIZA" has just been released in Portugal and across Europe, and it is scheduled to be released stateside in the spring of 2019. SPONSORSHIPSAnyone interested in sponsoring this event should contact Carolyn Rolfe at 978-934-4482 or Carolyn_Rolfe@uml.edu, or visit www.alumni.uml.edu/FadoSponsor. ABOUT UMASS LOWELLUMass Lowell is a national research university located on a high-energy campus in the heart of a global community. The university offers its more than 18,000 students bachelor's, master's and doctoral degrees in business, education, engineering, fine arts, health, humanities, sciences and social sciences. UMass Lowell delivers high-quality educational programs, vigorous hands-on learning and personal attention from leading faculty and staff, all of which prepare graduates to be leaders in their communities and around the globe. www.uml.edu. ABOUT LOWELL MEMORIAL AUDITORIUMThe Lowell Memorial Auditorium was originally constructed in 1922, by the architectural firm Blackall, Clapp & Whittemore. The 2,800 seat-auditorium is an indoor venue located in downtown Lowell, Massachusetts on Merrimack Street. An ideal venue for concerts, family shows, conferences, conventions, trade shows, corporate seminars and much more. Tickets for Lowell Auditorium are available at www.lowellauditorium.com and they are also available through the auditorium box office open Monday-Friday 10:00 AM-5:00 PM.
​ 2019 Fado Festival NY NJ

A celebration of Fado the iconic music that is uniquely Portuguese. ​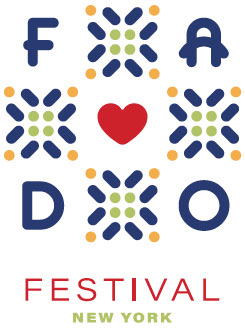 Wednesday, May 1 & Thursday May 2 @ Noon with

Sofia Ribeiro

Brookfield Place New YorkWinter Garden230 Vesey StreetNew York, NY

Friday, May 3 @ 7:30pmwith
Camané&Ana Sofía Varela
Brookfield Place New YorkWinter Garden230 Vesey StreetNew York, NY Saturday, May 4 @ 7:30pmwith
Helder Moutinho&Maria Emília
Pre concert talk at 6pmFado Past, Present and FuturewithLila Ellen Gray Brookfield Place New YorkWinter Garden230 Vesey StreetNew York, NY Sunday, May 5 @ 2:00pm
Portuguese Language Day

Artists, children's programs and music. Produced by Camões, Instituto da Cooperação e da Língua, I.P.
Liberty Hall MuseumKean UniversityUnion, NJ Saturday, May 11 @ 4:30pm
Walking Tour of Newark's Ironbound and Concert

Tickets $30 in advance, $40 day of.Limited availability4:30-6pm walk6pm light food and drinks, Sport Club Português7pm: Fado Concert, Sport Club Português This event takes place rain or shine, unless thunderstorms.
No refunds unless Fado Festival cancels the event. Sport Club Português55 Prospect StreetNewark, NJ 07105


​

​Portuguese guitarist
Marta Pereira da Costa US Tour ​7 Mar - 5 Wounds Portuguese National Church, San José, California ​8 Mar – Portuguese Ambassy, Washington DC 9 Mar - Millennium Stage, Kennedy Center, Washington DC 12 e 13 Mar – SXSW Festival, Austin, Texas 14 Mar - David Rubenstein Atrium, Lincoln Center, New York ​15 Mar – DROM, New York, NY 16 Mar - Narrows Center for the Arts, Fall River, MA​

This is Marta's first US debut as a headliner. Marta toured the US in 2013 and again in 2014 with Rodrigo Costa Félix and Pedro Pinhal, in visits sponsored by Portuguese/American Cultural Exchange (PACE). For this tour, she is playing concerts in CA, DC, TX, NY, and MA. The concerts are an opportunity to hear a broad range of Portuguese and other music, played by one of the highest profile musicians working in Portugal today.
New Voices from Portugal: Fado with Marco Oliveira and Tânia OleiroSaturday, November 3, 8pmWiggin Auditorium/Peabody City Hall24 Lowell St., Peabody, MA 01960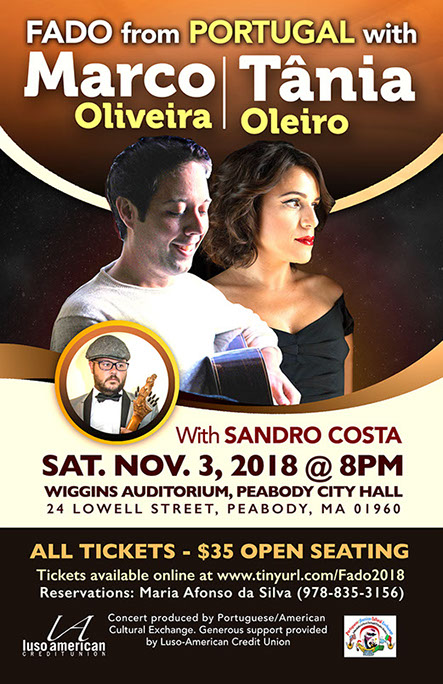 ​Tickets: $35, open seatingBuy: http://tinyURL.com/Fado2018Reserve: Maria Silva 978-835-3156 Award-winning Portuguese fado singers Marco Oliveira and Tânia Oleiro make their Boston-area debuts on Saturday, November 3 at 8pm at Wiggin Auditorium, Peabody City Hall, in Peabody, MA. Both singers are touring the U.S. in support of their latest CD releases. Fado, Portugal's best-known but ever-mysterious music, explores love and loss, belonging and isolation, joy and pain through a music designated as world cultural patrimony by UNESCO. Marco Oliveira's two critically acclaimed records, "Retrato" and "Amor é Água que Corre", chart fado's topography in the modern world, with tales of longing (Portuguese "saudade") that unwind through the labyrinth of Lisbon's darkened streets. Tânia Oleiro's debut record, "Terços do Fado", reaches into fado's past by drawing on some of its most traditional musical compositions, while looking into the future via lyrics by some of fado's best contemporary writers. The singers will be joined by Sandro Costa on the Portuguese guitar (with accompaniment by Oliveira on the classical guitar). Costa is known as a master improviser and provocateur who has honed his craft through countless performances in Lisbon's most traditional taverns, as well as on national and international stages. The venue for the concert is Peabody City Hall's Wiggin Auditorium. A recent historically-sensitive restoration has returned the hall to its former glory, with beautifully appointed architectural touches (and a modern audio-visual system) that complement the hall's already excellent acoustics. The venue is conveniently located with ample free parking. Marco Oliveira: http://marcooliveira.pt/Tânia Oleiro: http://www.taniaoleiro.com
​ Ricardo RibeiroOne of the greatest fado singers of his generationComing to the US accompanied by top fado musicians from Portugal Friday, March 23 - Boston area - Larcom Theatre in Beverly, MA ​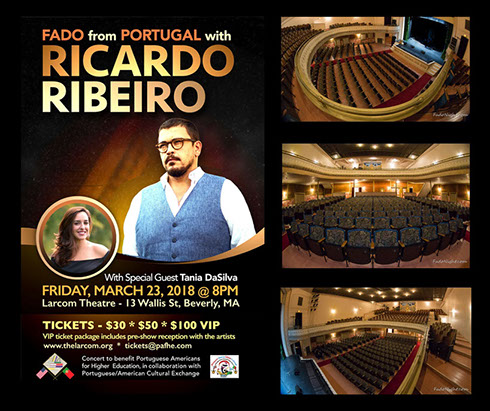 Saturday, March 24 - Schimmel Center in NYC ​

2
​ CITY WINERY PRESENTS:
AN INTIMATE EVENING WITH MARIZA & SPECIAL FRIENDSNARROWS CENTER FOR THE ARTSFALL RIVER, MASunday, November 12, 2017 ​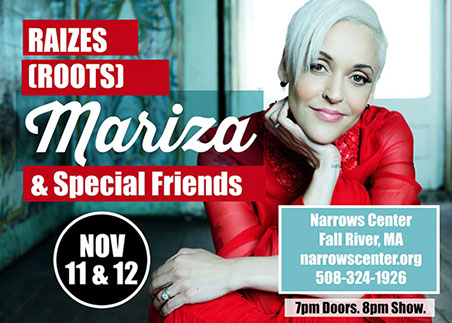 ​ Sounds of Portugal
A Concert byJoana Amendoeira and Duarte Durgin Concert Hall35 Wilder St, Lowell, MA 01854Friday, November 3, 2017 at 7:30 PM ​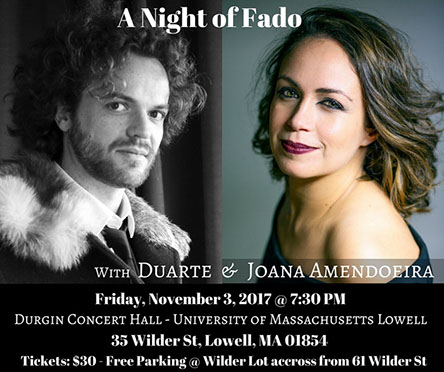 Joana is one of the best-known fadistas today, with nine highly acclaimed CDs and critical recognition from the Amália Foundation,among others. This will be her first official US visit. Duarte is a singer, musician and lyricist, who was recently featured on Public Radio International. He returns to UMass Lowell after a great performance in 2014. Joana and Duarte will be accompanied by two top-flight musicians: Pedro Amendoeira on the Portuguese guitar and Tiago Silva on the viola. Both are veterans of the fado, having played extensively within Portugal and internationally with artists such as Mariza, Maria da Fé and Camané. You may purchase tickets at www.alumni.uml.edu/fadoFor questions, contact the Saab Center at 978-934-5199
​ Saturday, May 6, 2017 @ 8PMZeiterion Performing Arts Center, New Bedford, MA CARLOS DO CARMOA LIVING FADO LEGEND ​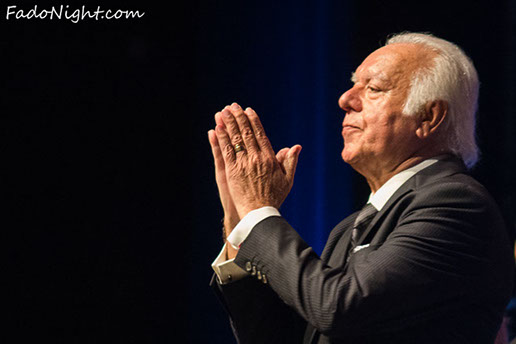 The Zeiterion Performing Arts Center unites with top Portuguese cultural organizationsto create a weekend of Portuguese cultural celebration! (New Bedford) –The Zeiterion Performing Arts Center and a coalition of Portuguese cultural organizations are proud to present a weekend of programming that will celebrate the art and culture of Portugal on May 6 and 7! It begins with a vibrant fundraiser "Conviver Com Carlos do Carmo" on Friday, May 5 from 7:30-10:00pm. Guests will have the opportunity to mingle with Carlos do Carmo and enjoy Portuguese food and drinks. Tickets: $35. The celebration continues Saturday, May 6 with Viva Portugal, a downtown New Bedford "festa" or street fair, from 1:00-7:45 p.m. This free, family-friendly event will feature four city blocks, centered at the intersection of Purchase and Spring Streets, filled lively Portuguese culture and entertainment. As Viva Portugal winds down, audiences will transition inside the theater for a concert of Portuguese fado music by the Latin GRAMMY® Lifetime Achievement Award-winning Fado performer, Carlos do Carmo at 8:00 p.m. Concert tickets: $35-$59. The Viva Portugal festa is free, and the tickets for the fado concert and fundraiser are available at www.zeiterion.org, 508-994-2900 or at the Zeiterion box office, 684 Purchase Street, New Bedford. The Zeiterion Performing Arts Center is located in New Bedford, the heart of the Southcoast's Portuguese population. The area is also home to a host of Portuguese cultural organizations, all of whom produce events and programs that create a strong cultural identity for the area and its residents. "Last year, The Zeiterion united Portuguese cultural groups for the first time to create the tremendously successful inaugural Viva Portugal. This year, the group has grown even more robust! Along with The Zeiterion, these twelve Viva Portugal partners are returning to continue this showcase of the best local and international Portuguese culture," said Rosemary Gill.The festivities begin on Friday, May 5 at 7:30 p.m. with a wine and cheese fundraiser "Conviver com Carlos do Carmo." Guests will mingle with fado legend Carlos do Carmo, enjoy the music of Tres Primos, as well as a charming performance of a classic Carlos do Carmo songs by the students from The Discovery Language Academy. While there, guests can enter the raffle to win a trip to Portugal, courtesy of Azores Airlines and Sagres Vacations! Proceeds benefit the Discovery Language Academy and The Zeiterion Performing Arts Center. Tickets are $35. The next day, Saturday, May 6 from 1:00 to 7:45 p.m., Viva Portugal will return for a second year! This downtown New Bedford festa will showcase the food, performing arts and folkloric culture of Portugal. The streets around the Zeiterion will come alive with music, cooking demonstrations, art exhibits, roaming performers, parade floats, food vendors, café tables, whale boats, craft vendors, classic Portuguese decorations, and kid's activities. Viva Portugal highlights include:Cooking demonstrations by Portuguese cooks includingNew Bedford Police Chief Joseph Cordeiro New Bedford Fire Chief Michael Gomes, and chef Kristen Davis.Authentic music and dance of Portugal with Ilhas Brumas, Senza, Tres Primos and the Madeiran folkloric dance groupGrupo Folclorico do Clube Madeirense S.S. Sacramento, among many others."The Best Sweetbread of the Southcoast Contest" where audiences will test samples and vote for their favorite bakery.An exhibit and talk by award winning photographer Peter Pereira.Classic Portuguese foods like caçoila and linguica sandwiches, malassadas, cod fish cakes, and favas provided by Portuguese food vendors Portu-galo, Tia Maria's, Day of Portugal, Feast of the Blessed Sacrament and The Two Sisters.A display of the Azorean whaleboat "Pico" by The Azorean Maritime Heritage Society.Decorations and parade floats by Club Madeirense S.S. Sacremento, also known as "The Feast."A performance of excerpts from the book "Through a Portagee Gate" – an endearing tribute to a Portuguese immigrant cobbler, by actors from Bristol Community College and Culture Parkl As the Viva Portugal festa concludes at 7:45 p.m., audiences will be ushered into The Zeiterion's theater by a parade of folkloric dancers, to see the internationally-known fado legend Carlos do Carmo in concert at 8:00 p.m. With a 50-year career and millions of albums sold, this 77 year-old Fado performer was the first Portuguese artist to receive a Latin GRAMMY® Lifetime Achievement Award. Tickets for the Carlos do Carmo concert start at $35. The Viva Portugal partner groups include the Azorean Maritime Heritage Society, Club Madeirense S.S. Sacremento, Consulate of Portugal in New Bedford, House of the Azores of New England, New Bedford Day of Portugal, Portuguese United for Education, the Prince Henry Society of New Bedford, and Tagus Press, Center for Portuguese Studies, UMD,The Fishing Heritage Center, LuzoCentro of Bristol Community College, Ferreira-Mendes Portuguese American Archives at UMD. Additional partners include The City of New Bedford, and The New Bedford Whaling Museum. "Viva Portugal," a celebration of Portuguese art and culture, is a free event.Tickets for the "Conviver com Carlos do Carmo" fundraiser and "Carlos do Carmo in Concert"are available for purchase at www.zeiterion.org, by calling 508-994-2900, or in personat the box office at684 Purchase Street, New Bedford, MA.Box Office Hours: Tuesday-Friday, 10:00 a.m. to 5:00 p.m.,Saturday 10:00 a.m. to 3:00 p.m.and two hours before each performance.